By Stephanie Miceli
This article is part of a series of profiles on the 2020 winners of the National Academy of Medicine's Healthy Longevity Catalyst Awards — a component of the Healthy Longevity Global Competition, a multiyear, multimillion-dollar international competition seeking breakthrough innovations to improve physical, mental, and social well-being for people as they age. Read more about the award and the winners' research and ideas for promoting healthy aging.
Age-related hearing loss is common in the United States, with two-thirds of adults over age 70 experiencing a clinically significant hearing loss. However, that doesn't mean that hearing loss should be something we learn to live with.
"We dismiss hearing loss as part of aging, but that's not really acceptable," says Carrie Nieman, assistant professor in the division of otology, neurotology, and skull base surgery at Johns Hopkins Medicine and core faculty at the Johns Hopkins Cochlear Center for Hearing and Public Health. "Just like we take care of the heart and the brain as we age — maintaining our hearing health is just one more way we can stay engaged with the people and the activities we care about," she added.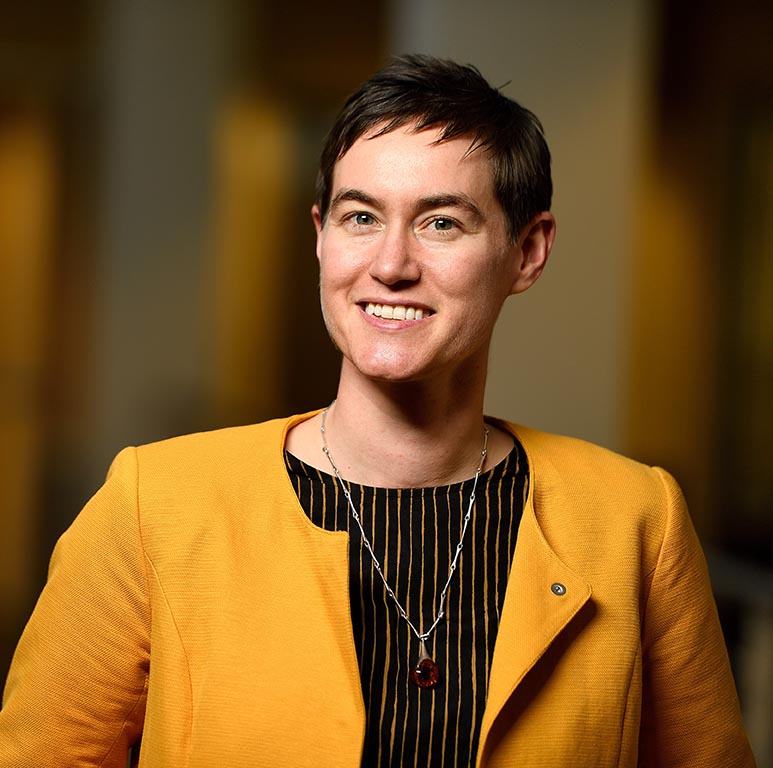 Carrie Nieman
Nieman, a winner of the 2020 National Academy of Medicine's Healthy Longevity Catalyst Awards, wants to change the way people access hearing health care. Her proposal would implement a community health worker (CHW) program to provide a basic level of hearing care to vulnerable older adults.
When people have hearing issues, they typically see an audiologist or get a screening during a primary care visit. Soon, they'll be able to get over-the-counter (OTC) hearing aids, as a result of legislation passed in 2017. But that's assuming older adults can afford the devices and navigate the process of getting them, and that they have reliable transportation and the time and ability to attend multiple provider visits.
Community health workers — outreach workers who act as a bridge between underserved communities and the health care system — have been engaged in other health arenas, including management of diabetes and hypertension. However, CHWs have been an underappreciated resource in hearing health care, says Nieman.
"This isn't meant to replace going to the audiologist. But we must recognize, that's not a model of care that reaches everyone," she says. "You don't necessarily need all the years of training as an audiologist to help people navigate hearing loss. CHWs can help us identify and reach who isn't showing up at the doctor's office."
It is important that we have more affordable, high-quality hearing aids and other devices — but alongside that, we need to ensure older adults can understand and use that hearing technology, Nieman added. That's one of many areas where CHWs can play a role, in addition to connecting patients to support groups, educational resources, and even services for other health conditions.

Peer educators in training, photos courtesy Carrie Nieman/Johns Hopkins
Hearing Health Equity
As with almost every other health condition in the United States, there are stark racial, ethnic, education, and income-based disparities in hearing health care. Cost, lack of insurance and Medicare coverage for hearing aids, and the stigma of hearing loss are major factors. Differences in noise exposure or in genetic determinants may also contribute to differences in hearing loss.
CHW-delivered models of care can extend access to care across a range of settings and communities to help address these disparities. Currently, Nieman's work is based in Baltimore and focuses on outreach to Black and low-income communities. More recently, her efforts have extended to programs for immigrant minority communities and people living with dementia at home.
"For many of my colleagues in gerontology, and in the aging world broadly, the idea of hearing health equity is not always top of mind," says Nieman. "Historically, we've approached hearing health as a medical issue, but with this CHW delivery model, we're addressing it as a public health issue."
Like many of her peers, throughout the COVID-19 pandemic, Nieman has been thinking about how we can do things differently.
"We've been anxiously awaiting new advances in hearing health care, like OTC hearing aids — so why can't people have easier access to that care? If we don't do this work now, we've missed a really critical opportunity."