By: Stephanie Miceli
This article is one in a series of profiles on the 2020 winners of the National Academy of Medicine's Healthy Longevity Catalyst Awards — part of the Healthy Longevity Global Competition, a multiyear, multimillion-dollar international competition seeking breakthrough innovations to improve physical, mental, and social well-being for people as they age. Read more about the award and the winners' research and ideas for promoting healthy aging.
Imagine if just by sitting on the toilet, you could collect actionable information about your health.
Although health and fitness wearables can help do that job, people tend to lose interest after a few months. Fitbits are forgotten at home or put in a drawer when the battery dies. Even stepping on a scale or using a Bluetooth blood pressure monitor can be difficult tasks to remember, if they're not part of your routine. This can be especially true for seniors, who are generally less likely to use wearable gadgets.
David Borkholder and his co-investigators at the Rochester Institute of Technology (RIT) believe that the toilet is the next frontier for health data collection — because going to the bathroom is part of our daily lives.
His multidisciplinary team of behavioral and design experts recently won a Healthy Longevity Catalyst Award from the National Academy of Medicine (NAM). They plan to apply this funding to their "smart toilet seat" model, which is embedded with sensors that can collect vital signs (such as heart rate, blood oxygenation, and blood pressure) from skin contact, right in the home.
"When you think about aging in place, we'll see more health care monitoring shift into the home, and it'll be more common to integrate nontraditional objects into our health care," said Borkholder, a professor of electrical and microelectronic engineering at RIT. "Putting a suite of cardiovascular sensors into a toilet seat requires zero change in habit from the individual to gather that data."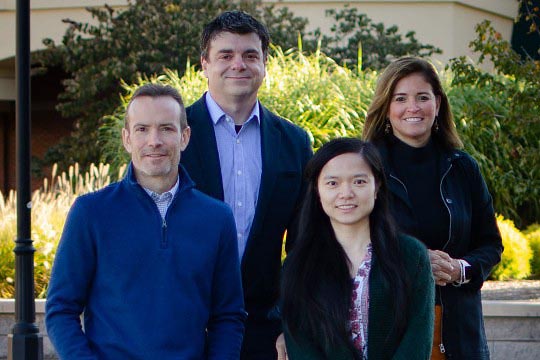 (left to right) David Borkholder, Adam Smith, Linwei Wang, and Caroline Easton, Rochester Institute of Technology
Gathering vital signs from the toilet seat could be transformative for managing heart disease and hypertension in older adults, he added — especially since more doctor visits are virtual or being delayed because of the COVID-19 pandemic.
It also has implications for longevity. Simply put, if you take care of yourself and make the necessary health changes, you can live a long, full life in spite of your condition.
---
For the first time, we'd be able to gather vital signs data every day.
---
"For the first time, we'd be able to gather vital signs data every day," he said. "You can personalize it and see what's happening with the individual and pick up on the emergence or worsening of disease."
"With the help of artificial intelligence, tremendous individualized knowledge can be mined from these everyday data to provide continuous monitoring of an individual's health status," said Linwei Wang, a professor in the Golisano College of Computing and Information Science. "This can help trigger an alert for early intervention before the onset of severe symptoms."
It's All About Changing Behavior
The data collected from the smart toilet seat would automatically be sent to the cloud — so there's no burden on the patient.
But to get people to act on the data, it's important to create a visual experience, said Borkholder's co-investigator Adam Smith, graduate director of the visual communication design program at RIT.
"The patient is participating in a daily process and passively recording information. As the data comes in and physicians review it — we have to translate it to a conversation between the physician and the patient," Smith said.
Caroline Easton, a professor in the behavioral health-clinical psychology training program at RIT and another co-investigator, is bringing a behavior change lens to the project. In the next phase, she envisions pairing the sensor-enabled smart toilet seats with a tablet. With the touch of a button, patients could access a customizable avatar coach that could proactively interact and intervene.
"Say a patient is monitoring vital signs for chronic heart failure, and they have changes in blood pressure, or depressive symptoms. How can we motivate them to increase physical activity, manage stress, and adopt healthy coping behaviors? The virtual coaches can interact with patients to motivate and teach skills to change their behavior — and hopefully change physiological outcomes," she said.
In the near term, the team aims to conduct a series of studies to demonstrate that they're getting better rates of data collection adherence in the home (broken out by patient age group). They'll also assess the quality of vital signs data that's being captured.
The smart toilet seat is just one of many projects at RIT that focuses on the intersection of computing, behavioral health, and design. While it is initially intended for home use, the team is thinking bigger."There could be extraordinary opportunities to improve population health if these are in public restrooms, or in homeless shelters. We can also see these being used in low- and middle-income countries," said Borkholder. "But the point is — we want people to be able to take charge of their health, wherever they call home, on their terms."